MANTRAS AND THEIR USE
Mantras are Sanskrit words and phrases that are said to have power. They are an effective tool for meditation and are easy to use. The following is just a brief introduction to some mantras.
SHIVA MANTRAS
OM NAMAH SHIVAYA
(pr. OME NAH-MAH SHI-VAH-YAH)
This is the basic Shiva mantra. It means, roughly, "Om and salutations to Shiva." Shiva is here used as a name for God. It is generally most effective when synchronised with the breathing. I have found the most effective way to use it is to repeat OM on the inbreath and NAMAH SHIVAYA on the outbreath.
It is also possible to strengthen this mantra by adding the "seed words" Shrim and Klim. Shrim is, to quote from Ashley-Farrand, "the seed sound for Lakshmi's abundance." Klim is "the seed sound for attracting both abundance and the conciousness residing naturally in the elements of creation." The mantra then becomes:
OM SHRIM KLIM NAMAH SHIVAYA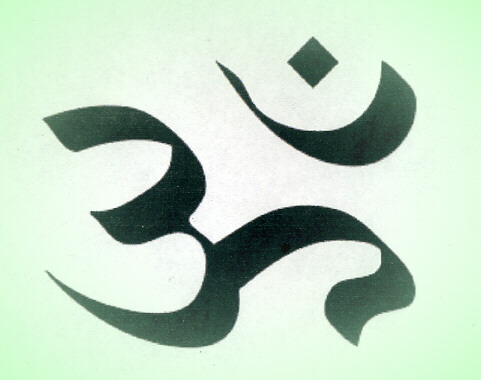 The Sanskrit character for OM.
OTHER MANTRAS
The following mantras are not part of Siddha Yoga. They are taken from the book "Shakti Mantras", by Thomas Ashley-Farrand, unless otherwise stated. They are centred on the powers of Indian goddesses who are considered to represent various aspects of the Great Feminine principal, otherwise known as Shakti.
DURGA
The goddess Durga (pr. Door-gah) has been portrayed as a warrior goddess associated with fire and catharsis. She is seen as a symbol of the Great Feminine principle and as the great Mother Goddess who may provide protection.
OM DUM DURGAYEI NAMAHA
(pr. OME DOOM DOOR-GA-YAY NAR-MAR-HAR)
This mantra can be used as an appeal to the great Mother Goddess for her protection. It can be used in general circumstances where some degree of protection is desired, for oneself or for others.
OM EIM HRIM KLIM CHAMUNDAYEI VICCHE NAMAHA
(pr. OME IME HREEM KLEEM CHAH-MOON-DAH-YAY VEE-CHEE NAR-MAR-HAR)
Like the previous mantra, this mantra is said to provide protection, but is meant for more drastic and extreme situations. It can be used to protect oneself or others, and is said to also provide blessings of creativity and good fortune.

SARASWATI
Saraswati is the goddess of knowledge, learning and wisdom. She presides over all forms of study, learning and creativity;she is creative inspiration as well, and particularly relates to writing, poetry and speech.
OM BRAHMA JNANAYEI NAMAHAH
(pr. OME BRAR-MAR YAR-NAR-YAY NAR-MAR-HAR)
This mantra can especially be used by anyone involved in the study of philosophy and mysticism. It develops the intellect and creative intelligence, developing the student's capacity to cope with and comprehend great ideas.
VEDANAM MATRAM PASYA MATSTHAM, DEVIM SARASWATI
(pr. VAY-DAR-NARM MAH-TRARM PARSH-YAH MART-SHTARM, DAY-VEEM SAR-RAR-SWAH-TEE)
This mantra is said to be particularly useful for those studying religion and scripture. It enhances their capacity for insight and understanding on a spiritual level, rather than an academic one.

RADHA
Radha was the consort of Krishna, the eighth Avatar (incarnation) of the god Vishnu. In time, the depictions of Radha developed to the point where she was seen as being one with Krishna. In Tantric literature, Radha was the embodiment of of spiritual love and "the embodiment of devotion to God."
OM RADHA KRISHNAYA NAMAHA
(pr. OME RAR-DAR KRISH-NAR-YAR NAR-MAR-HAR)
This mantra can be used to enhance and develop a relationship between two people, with a view to making it more loving and caring. It can be used by one person in the relationship or both.
AHAM PREMA
(pr. AR-HUM PRAY-MAH)
This mantra can be used to develop your capacity to love as much as you possibly can. It is said to transform you into an emanation of divine love.

LALITA
Another goddess representing the Great Feminine principle, Lalita is also known as Mahadevi (Great Goddess). Her feminine power can be appealed to in virtually any kind of situation.
OM BHOGINYEI NAMAHA
(pr. OME BOW-GIN-YAY NAR-MAR-HAR)
This mantra can be used to combat depression by stimulating the kundlini Shakti, which is said to provide the inherent energy of the words in the mantra. This energy helps to rid the mind of depression.
OM NISHKA MAYEI NAMAHA
(pr. OME NEESH-KAH MAR-YAY NAR-MAR-HAR)
This mantra can be used to rid the mind of unwanted desires. To prepare for the use of this mantra, one is supposed to start by framing the intended results in one's mind, and then purge one's mind of the intention when actually repeating the mantra.

LAKSHMI
Lakshmi is the goddess of abundance and good fortune. she attends to our material needs in general, but can also bring fortune and abundance of a spiritual kind. We can appeal to her whenever we need help in these areas. She was represented on early Indian coins and was associated with Kubera, the god of wealth. Lakshmi is sometimes depicted on doors as a way of bringing good luck to the household.
OM SHRIM MAHA LAKSHMIYEI SWAHA
(pr. OME SHREEM MAR-HAR LUCK-SHMEE-YAY SWAR-HAR)
This mantra can be used whenever we feel we need a dose of good fortune and luck, whether material or spiritual. It is said to have the ability to bring good fortune and open up unexpected possibilities.
OM SHRI DHANVANTRE NAMAHA
(pr. OME SHREE DARN-VARN-TRAY NAR-MAR-HAR)
This is the healing mantra, based on an appeal to the celestial healer, Dhanvantari, who figures in the Lakshmi story and who gave the Nectar of Immortality to the gods. It can be used to enhance one's own healing skills and performance as a practitioner;or for self-healing, in which it is said to be able to work in many ways to promote healing on all levels: physical, mental or emotional.

KALI
Kali is the fierce aspect of the Great Feminine principle; she can be drastic and ruthless, both giving life and destroying it. When she destroys, it is only so that good and truth will triumph. She can look dark and sinister, but she only destroys the negative to make way for the positive.
OM SRI MAHA KALIKYAI NAMAHA
(pr.OME SHREE MAR-HAR KAR-LEE-KA-YAY NAR-MAR-HAR)
This mantra expresses general devotion and salutations to the "Great Kali." It is for those who want to focus themselves on Kali as their principal spiritual practice. It has been said that very few people are initiated into this mantra because of the intensity of its "purgative nature." (This mantra is taken from the book "Meditation and Mantras", by Swami Vishnu-Devananda.)
OM KLIM KALIKA-YEI NAMAHA
(pr. OME KLEEM KAR-LEE-KAR-YAY NAR-MAR-HAR)
This mantra is said to bring rapid and even drastic relief from any situation that is difficult or problematic. The kind of solution attained might not be the kind you would want or envisage, because the effects of the mantra are said to be potentially drastic and unexpected. The results will be right and appropriate for you at the time, although they may not be pleasant in the short run.
OM HRIM SHREEM KLIM ADYA KALIKA PARAM ESHWARI SWAHA
(pr. OME HREEM SHREEM KLEEM ARD-YAR KAR-LEE-KAR PAR-UM ESH-WAR-EE SWAR-HAR)
This is known as the Great Fifteen-Syllable Mantra (not counting the Om at the start) and is said to provide a rapid boost to one's spiritual growth, although once again the results may be unexpected and drastic. One should only use this mantra if one is prepared for results that may be quite intense. From personal experience, I can vouch for the power of this mantra.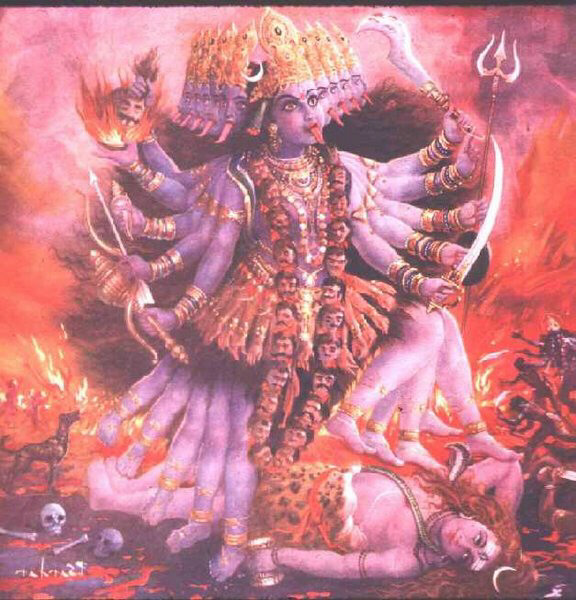 Kali
Using The Mantras
The mantras treated here are as simple to use as they are effective. It is said that these mantras, to be effective, should be repeated for approximately twenty minutes, twice daily, for forty days. They can be repeated silently or out aloud; read off the page or repeated from memory. Any of these approaches is said to be effective.
The reader may notice that many of the mantras begin with the word OM. this is said to be the primordial sound that was present at the creation of the universe. It is used in many mantras and is considered to strengthen them. It is pronounced OME, to rhyme with the English word HOME.
The reader may also notice that the mantras often include the word NAMAHA. This word means bowing to or making salutations to. It figures prominently because many of the mantras, if not all, are expressions of bowing down to, or making salutations to, the god or goddess from whom one desires help.
REFERENCES
Shakti Mantras: Thomas Ashley-Farrand (Ballantine Books 2003) ISBN: 0-345-44304-7
Meditation and Mantras: Swami Vishnu-Devananda (Motil Banarsidass Publishers 1978) ISBN: 81-208-1615-3